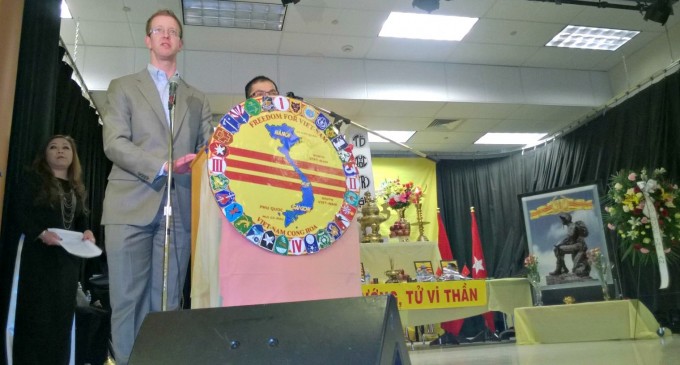 Remembering the Fall of Saigon in Tacoma – Pierce County
On Saturday US Congress Derek Kilmer joined community members at the Blix Elementary School in Tacoma to reflect on the fall of Saigon 40 years ago. It's a day that reminds us that out of tragedy can come a tremendous amount of empathy and grace.
The event was an important opportunity to commemorate the more than 58,000 Americans and the over one million Vietnamese who lost their lives during the Vietnam War. And, it's important to consider how our own community was impacted in the ensuing years.
Here in Washington state we opened up our communities and homes to the people of Vietnam. Governor Dan Evans and future Secretary of State Ralph Munro urged Washingtonians to adopt families, hire refugees, open their congregations, and help those fleeing find a better life.
That's exactly what we did. In fact, some of the first families to come to the United States arrived first at Camp Murray.
We opened our doors and our state has been enriched by the culture and drive of the Vietnamese people who settled here. It was an honor to be a part of this solemn commemoration.
Remembering the Fall of Saigon with a song: " Isn't That Really Sad?"
On stage Melanie NgaMy have a short message before start to sing on stage, sended to US Congress Derek Kilmer:
" To our great American friends, US Congress Derek Kilmer , Tacoma Mayor Marilyn Strickland , City Councils members , and young Vietnamese generations, your presence here today is our great honor. Thank you so much for being here sharing our memories on the fall of Saigon. It is my honor to be here and I would like to sing a song for you. The song tittle is " Isn't That Really Sad ", written by Musician Le Xuan Truong, as an important message to you that after 40 years, Saigon remains forever in the hearts of the people.
This is the reason why we are here today as a whole, strong and determined, for the better and the future. Thank you again!…"